Four-time BAFTA award winners Dick and Dom are still going strong after more than 20 years together. The duo, who earned cult status after their exploits 'In Da Bungalow' are heading to the Kings Theatre for one night of madness on October 29th in a Dick v Dom special.
The show, which was a hit at the Edinburgh Festival, encapsulates all the classic sketches and shenanigans and is one for everyone to enjoy. We caught up with the boys themselves to hear more about it.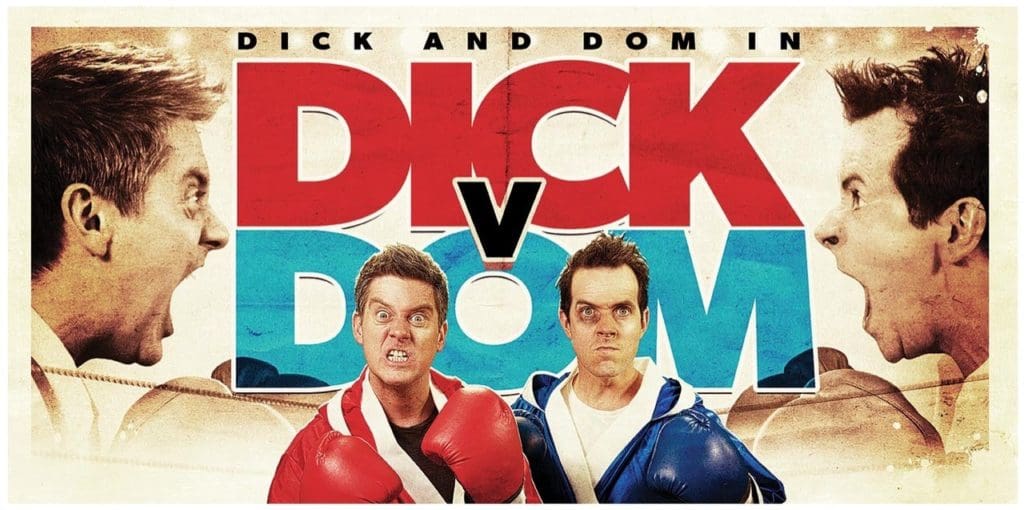 Tell us a bit about Dick v Dom – what can people expect?
It really is the ULTIMATE family show. It's not just for kids but for all ages from 5 – 105. In essence it's a game show. We split the audience in half – The Dicks v The Dom's. We battle it out over a few rounds with the ref awarding points in order to find the overall winner. It's fast, funny, oh and we all get to play BOGIES!!!
You've done Theatres before and even taken this show to the Edinburgh Fringe – how does the Theatre compare to a setting like the bungalow?
Da Bungalow was not a real bungalow (sorry to ruin it for you folks), so it simply had the feel of a studio with a set and loads of crew. The beauty of performing in a theatre is that you get to see and head the appreciation of your work. This in turn changes the way you perform. The whole process feeds itself and is great for us and more importantly for the audience.
In Dick v Dom do you each have a preferred choice of weapon/prop? Will we be seeing any of the classics?
One of the best games is musical splatues. Dick has 2 contestants and I have 2. It's then in essence 'musical statues' but if anyone moves…SPLAT. Pie in the face. As you might imagine….it turns to chaos and becomes a massive pie fight!!
Has much changed in what you guys do since you first stepped in the bungalow?
Well, when you watch this show, it really will remind you of da Bungalow. It contains the same chaos and unpredictability coupled with a few similar styled games. At the Edinburgh Festival we did a one-off late-night show for adults who watched the bungalow when they were kids. IT. WENT. NUTS!!
You've spanned across a couple of generations now – what's the secret to appealing to such a varied audience?
I think we have just been honest broadcasters. Audiences don't like 'fake' people and with us…what you see is what you get. Also, a big secret is being in a double act. People love watching two best mates goofing about.
Will you get much time to spend in Portsmouth? Have you visited before?
I'm sure we'll nip out to Gunwharf to grab something to eat after tech run. It's a brilliant place with great energy. We can't wait to perform for everyone!!
We HAVE to ask you about bogies – where's the one place in the world you'd like to play it?
Portsmouth!!
TICKETS FOR DICK V DOM ARE AVAILABLE HERE.