TRUE LOVE WAYS


Rick Thorne Interviews Maria Elena Holly

If such a thing as love at first sight really does exist, then Maria Elena Holly, Buddy's widow, says the two experienced that very thing the first time they met, one June morning in 1958. Puerto Rican-born Maria Elena Santiago was working at the New York offices of Peer-Southern Music, where her aunt Provi was head of Latin music. Here, she recalls her first encounter with the man she would marry just weeks later, and shares memories of life with Buddy, the man, his music, and the legend…

"I replaced the receptionist that quit, I'd been there about five days when Buddy came in through those doors", she says. "It was like a magical moment for both of us. We fell in love immediately…it was love at first sight. I had no experience of it but it does happen. I didn't even know who he was, I'd never seen a picture of him. The thing I remember is the name — 'I'm Buddy Holly, I have an appointment with Mr Deutch.' People in the office said this was the young man whose 45 ('That'll Be the Day') I'd been mailing to disc jockeys. He was on his way to meet Murray Deutch and I said, 'sit down, I'll let him know you're here'. He said, 'oh sure, I'll sit down'. The other two Crickets were there but he was the one who started a conversation with me.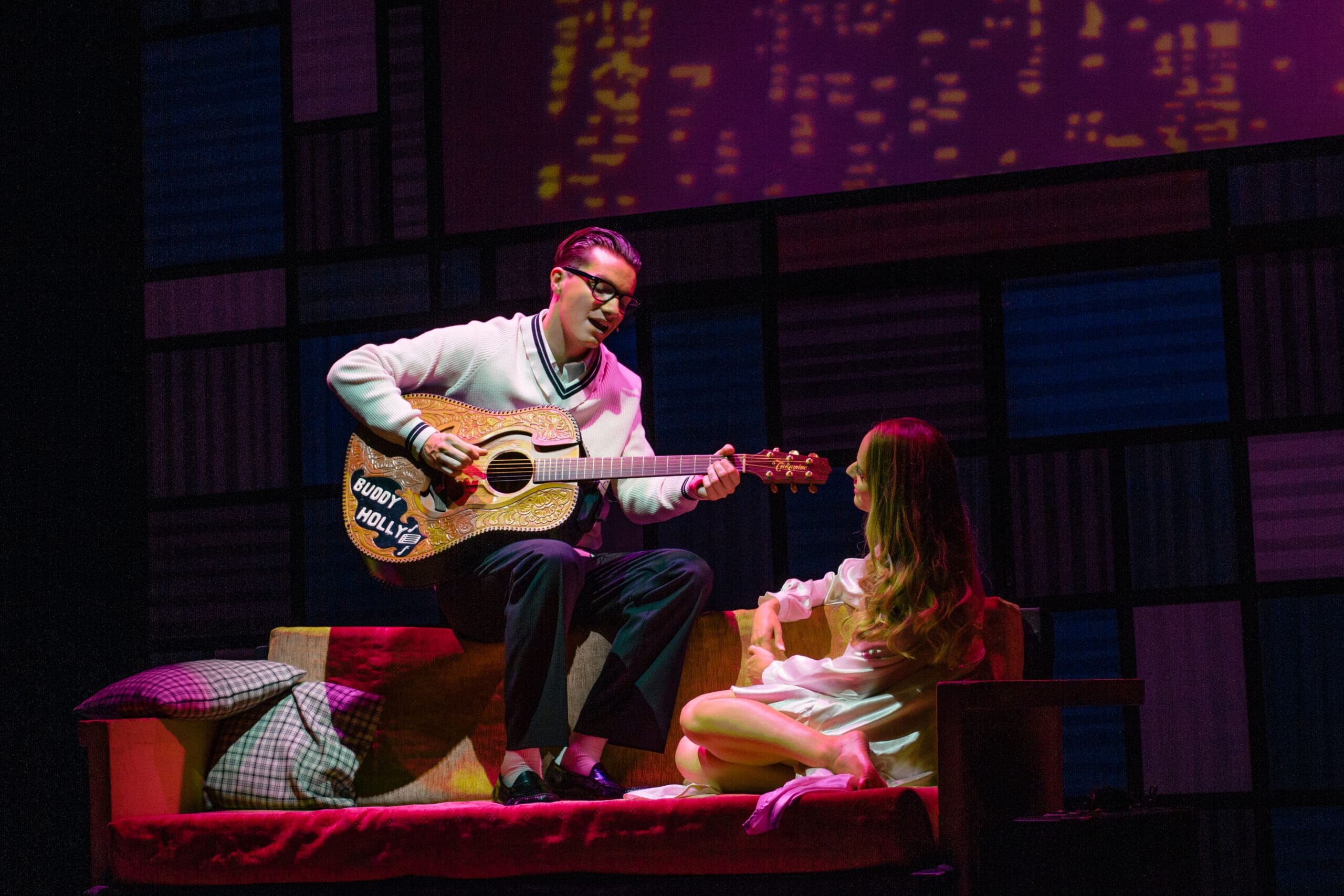 He said 'you have an accent — where are you from?' I said 'well, — I'm Spanish, I'm from Puerto Rico but I live in New York'. He said 'cool, you have an accent' and I turn around and say 'you do too' — it was a Texas twang. Then he asked me to go to dinner or lunch. I said 'I'm sorry, I cannot do that. The policy of the company is that we don't go out with the people that come into the office.' I had never gone out with anybody before. But I liked the guy immediately, it was an immediate connection." Buddy's spontaneity would take hold of the situation'. "Eventually I guess he talked to Murray Deutch who phoned my aunt and gave him a reference, said Buddy's a nice young man," says Maria Elena. The two got together for dinner at P J Clarke's that evening. "We came into the restaurant, we sat down, and he said 'would you excuse me? I'll be right back'. He came back with his hands behind his back and sat down and pulled out a red rose. My aunt always said that musicians are not 'all there', they're crazy. That thought came into my mind — these people are crazy! SO, five hours we'd known each other and he popped the question. I began, sarcastic about it, 'well, do you wanna get married now or do you wanna get married later, maybe after dinner?' And he said 'no, I'm serious about it, do you wanna get married?'" Buddy and Maria Elena married on August 15 at a private ceremony at the Holley home in Lubbock, although the marriage didn't become public knowledge until after Buddy's death.
The two moved into an apartment in Greenwich Village and the young Puerto Rican girl was now very much part of the whirlwind that was life with Buddy Holly. She says: "Living with Buddy was a constant challenge because he was always thinking of the things he wanted to do. He wanted to open offices in New York and a recording studio, a publishing company. Even at that time, he was thinking about developing other artists. The way Buddy thought about all this was 'I wanna be able to deal with every facet of the industry'. He was producing Waylon Jennings at that time, and Lou Giordano. He also mentioned he wanted to score for movies. I said, Buddy, do you think you're going too fast?' and he said 'oh no, no, no — I'd like to write a score for a movie and possibly study acting'. You could see he was very determined. He was a very laidback individual but driven about his music. He wasn't afraid of getting involved in something new, of doing new things. He loved Mahalia Jackson, he loved Ray Charles, he listened to all kinds of music. He said to me 'we need to go to LA, I want to go and see if I can catch Ray Charles before he goes on tour, I want to do an album with him. Maybe we could do something together, I know it would be great.' Nobody had thought of doing that then. And we did go. We went to California looking for him — we went to his house but he wasn't there, he had already gone."
For some, the Buddy Holly legend first captured the imagination during his monthlong
tour of England in 1958. Buddy-mania swept the country and his creative influence was to prove far-reaching in the formation of British rock 'n' roll. "I met him when he came back from the tour in England," says Maria Elena. "He said 'I'm thinking of doing more tours out there, but the main reason I want to go back is because I heard so much talent out there. I'm also thinking about opening a recording studio so I'll bring the talent in and develop it.' With the Beatles and everybody that followed, he was on the right track."
Fitting then, that it was on the London stage that a new chapter in Buddy's legacy was written, in the form of the musical, Buddy — the Buddy Holly Story.
"The first time I was invited to see the show it was Paul Hipp playing Buddy in London," recalls Maria Elena. "When I saw Paul on stage it was like seeing Buddy. This guy was like
a twin brother on stage, it was unbelievable. I couldn't sit through the whole thing, I started crying. I had very mixed emotions, it was so real and I was not prepared for that." Maria Elena is delighted the show is returning to the stage after 13 years in London's West End and numerous national and international tours. But what does she think it is that has struck a chord with so many people? "First of all it's Buddy's music", she says. "Buddy was very versatile, he wrote a lot of different types of songs and no two songs are alike. Plus they've done a terrific job of putting the highlights of Buddy's career into two hours. Just seeing the people enjoying themselves, and getting up and dancing to Buddy's music and getting excited — that makes me so happy."